Project Background
Bali, Indonesia is home to the Balikids Orphanage, which is supported by RAW Giving. We help provide a place for these kids to stay so they don't have to be alone, and we recently installed a new dental facility to keep the kids' smiles nice and bright.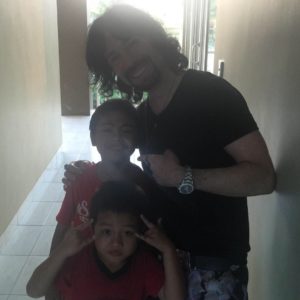 Bali Kids opened in April 2005. The project provides a clean, safe environment for orphans requiring special care.
The centre is open to any children registered in Bali's orphanages who need medical attention. Children from the local village projects, who's family hold a 'poor family card', can also receive free treatment and care. Children needing to be hospitalized are provided pre and post operative care at the center. Short and long term accommodation is available.
Funding for surgery must be secured from outside sources as Bali Kids is only funded to provided Clinic services. Bali Kids is non-denominational and accepts children from all orphanages on the island. The children's culture and background is always respected.
Did you know that RAW makes hand rolled cones in Bali Indonesia? That's what originally brought us to this beautiful island. Once we were there we connected with a small orphanage run by an Australian ex-pat that happened to be friends with one of our friends. Bali Kids is the most reputable and locally renowned orphanage in all of Bali. They take in the kids that other orphanages can't – or won't. Most of the kids that stay here have life-threatening diseases like HIV. In addition, Bali Kids services hundreds of kids from the local community with a health outreach program. We have a weekly free dentist service that helps so many children and free health services that help even more. The goal of Bali Kids is to keep children at home, and to adopt out as many children as possible. It's a tough place but thanks to donors like you and me, it's also a magical special place. We've been able to grow Bali Kids from a tiny 3 room building to a modern multi floor 20 room concrete structure with a rehabilitation pool in back.
Lately we've faced some big problems with Australian funding. I'll explain in short; The Indonesian government executed several high profile Australian "drug smugglers". These were low level crimes that deserved a very small punishment, definitely NOT a death sentence. These "drug smugglers" were each caught when the Australian police pre-alerted the Indonesian police that they were flying in with "drugs". The fallout from this mess is that the donors from Australia that were supporting Bali Kids took out their anger and frustration by stopping or reducing their donations. All that did was to cause the kids to suffer and the orphanage to almost have to close. This past year RAW stepped up with bridge-funding-donations that were 10x higher than our normal donations just to keep Bali Kids running. Our hope is that the Australians will realize that this is a very worthwhile cause and their anger should be directed at their government and the Indonesian government – not this little orphanage…